(SOFT SEATED & METAL TO METAL SEATED)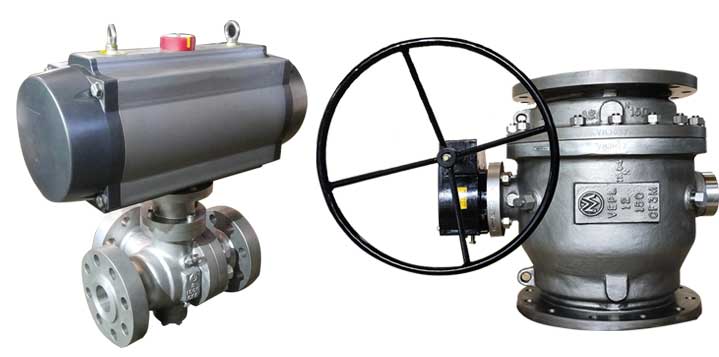 A ball valve is a shut off valve that controls the flow of a liquid or gas by means of a rotary ball having a bore. By rotating the ball into quarter turn (90 degrees) around its axis, the medium can flow through or can be blocked. It is open when the ball's hole is in line with the flow and closed when it is pivoted 90-degrees by the valve handle. The handle lies flat in alignment with the flow when open, and is perpendicular to it when closed, making for easy visual confirmation of the valve's status.
Features
Size: ½″ up to 36″ (DN 15 up to DN 900)
Pressure Rating (Class): ASME 150# to 2500#
Materials: Carbon Steels, Low Temperature Carbon Steel, Martensitic Steels, Austenitic Stainless Steel, Duplex Stainless Steels, Super Duplex Stainless Steels, Nickel Alloys, Nickel Aluminum Bronze, Hastelloy, Inconel, Titanium Alloy & Carbon Steel with Internal Corrosion Resistant Alloy (CRA) Overlay
Design Construction: One/Two/Three Piece Design, Trunnion/Side Entry, Floating, Soft and Metal Seated, Extended Stem. Full Bore Reduced Bore.
Design Standard: API 6D, API 608, ISO17292, BS5351
Specialization
Photos