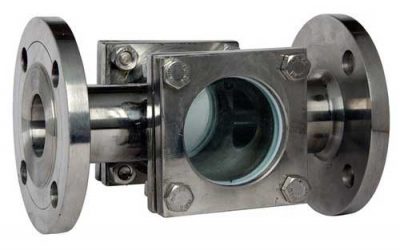 A sight flow indicator is used in process pipelines to observe the flow of liquid, powder, or gas it is used to observe the presence of a liquid where there is intermittent flow, partially filled lines or entrained air.
It is comprised of a body with one or more viewing windows. It is the most reliable way to verify flow for direction and approximate rate, colour and clarity. We offer standard view and full-view sight flow indicators for industrial, sterile and hygienic applications.
Our range, with a choice of materials including stainless steel, carbon steel and duplex bodies, suit industrial applications with working temperatures up to 250ºC and working pressures up to 16 bar for the standard range and 40 bar for the high-pressure range, and up to 250 bar for custom applications.
Features
Size: ½″ up to 10″ (DN 15 up to DN 250)
Pressure Rating (Class): 150# PN10, PN16 Materials: Cast Iron, Ductile Cast Iron (Grey Cast Iron, S.G. Iron), Cast Carbon Steel (WCB, WCC) and Stainless Steels (CF8, CF8M, CF3, CF3M), Fabricated (Carbon Steel)
Design Standard: ASME B16.34,
Test (Inspection) Standard: API 598,
Specialization
Photos