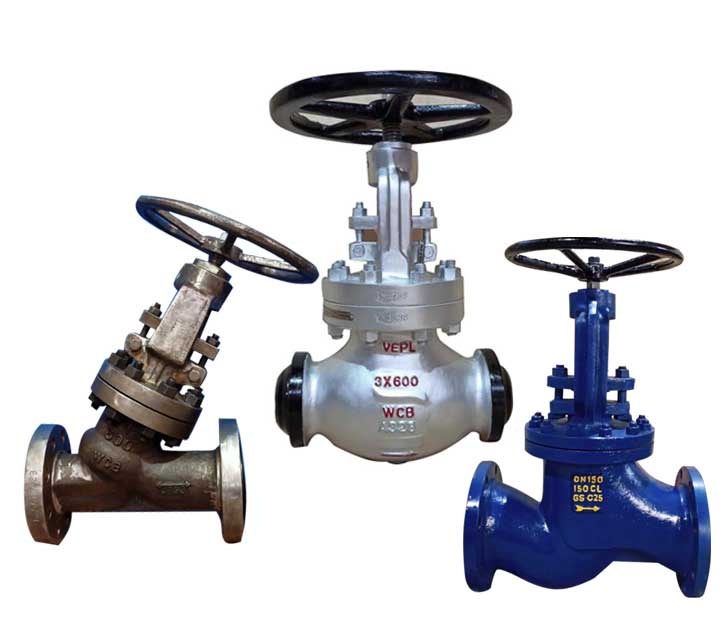 A Globe Valve is a linear motion valve used to stop, start, and regulate the flow. Due to their spherical body shape with the two halves of the body being separated by an internal baffle they known as globe valve This has an opening that forms a seat onto which a movable plug can be screwed in to close the valve. The plug is also called a disc. In globe valves, the plug is connected to a stem which is operated by screw action using a handwheel to operate manually. The globe valve is an excellent valve to use in high pressure operation of steam and can be use in used through-out the hydrocarbon, energy and process & the power industries. Globe Valve are available in "T", "Y", and Angle Style, each offering unique capabilities.
Features
Size: ½" To 20"(DN 15 up to DN 500)
Pressure Rating: ASME 150# to 1500#
Materials: Carbon Steels, Low Temperature Carbon Steel, Martensitic Steels, Austenitic Stainless Steel, Duplex Stainless Steels, Super Duplex Stainless Steels, Nickel Alloys, Nickel Aluminum Bronze, Hastelloy, Inconel, Titanium Alloy & Carbon Steel with Internal Corrosion Resistant Alloy (CRA) Overlay
Design Standard: BS 1873, API 602, 623.
Specialization
Photos